4th Annual Anniversary Local Author Fair
Join us Saturday, April 14, 2018 to celebrate
Copperfield's Books' 4th anniversary
with our
3rd Annual Author Fair for local authors & artists


Support local authors and artists and join us for Copperfield's annual author fair.
Don't miss out on free food, drinks and raffle prizes!
This year's fair will be April 14, 2018 from 10:30 am to 4 pm in the front parking lot of the store. Mark your calendar today!
See below for this year's author fair participants!






For Author & Artist Participants
Registration closes April 9, 2018. We can host up to 25 participants. A low registration fee of just $20 dollars (simply to cover the cost of the free food, sodas, balloons, etc.) reserves a spot at the fair. In addition to your books, authors may bring:

- One table (not to exceed 5 ft.)
- Pop-up tent (not to exceed 10 square feet)
- Signs, candy, give-aways or other free promotional items
- Authors are also invited to donate one signed copy of their book(s) for the Copperfield's Author Fair Book Basket
raffle prize.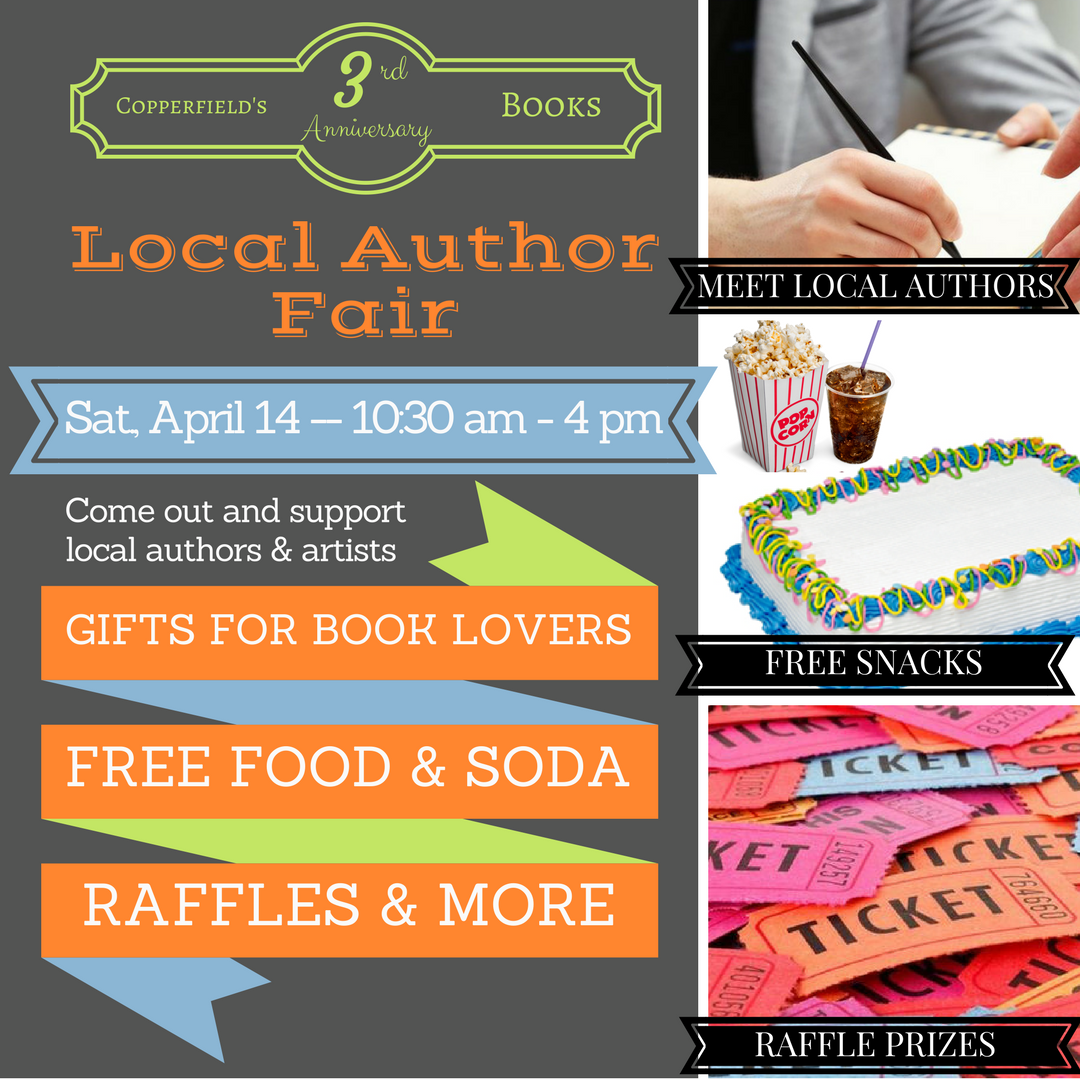 Additionally, Copperfield's Books will provide the following promotional support:
- Free cake, popcorn, cotton candy and soda
- Free Orange Leaf yogurt samples
- Balloons (and other festivities depending upon number of
authors secured)
- Raffle prizes
- Author-specific and general store Facebook and Google+
page promotion
- Digital copies of promotional materials for your own
social/web promotion
- In-store and local community awareness via signage,
banners, flyers
- Local online and print media outreach

If you would like to participate,
please click here
to complete the author profile registration form. We will then we will send you an invoice for the $20 fee to complete your registration.
Please feel free to pass this link to other local Houston-area authors you know that may like to participate as well.
We hope to hear from you!